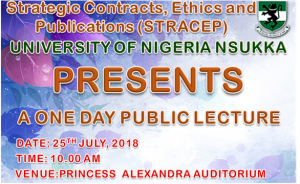 In keeping with the ethical transformation policy vision and direction of the 14th Vice Chancellor Professor Benjamin Ozumba, the Directorate of Strategic Contact, Ethics and Publications (STRACEP),through the Vice Chancellor's approval, is organizing  a one day public lecture titled: "From soiled Hand to Oiled Mouth: Ethics, leadership and entrepreneurship in Contemporary Nigeria" with the keynote paper presentation by Professor Damian Opata of English and Literary Studies Department, University of Nigeria. Other renowned national speakers are also featuring on the card. For example, the INTERPOL Contact for Nigeria, Sir Udensi Chikwe, Ugwumba, will be speaking on : "Ethics and leadership: Challenges of Security in Nigeria". It's another ethical show of values, strategic direction for Leadership and entrepreneurship for Nigeria.
The Governor of Enugu State His Excellency, Right Hon. Ifeanyi Ugwuanyi, is the special guest of Honor  who will talk on "ethical governance of Enugu State" while Chief Nnia  Nwodo, IKE UKEHE, President Ohaneze Ndigbo,is expected also. A courtesy call on the Vice Chancellor at 10 am, before the occasion at the PAA,will take place at the V.C's Conference Hall. 
VENUE: Princess Alexandra Auditorium
DATE: July 25, 2018.
Directors, Heads of Departments and Deans of Faculties/Student Affairs are expected to be present and seated before 9am at the PAA.
Signed
Dr Ani Casimir
The Director,
Strategic Contacts, Ethics and Publications (STRACEP)