JOURNAL OF VETERINARY AND APPLIED SCIENCES
Name of Journal: Journal of Veterinary and Applied Sciences
Names of Editors:
Editor in Chief:                                 Professor Chukwunyere Okwudiri Nwosu
Deputy Editor in Chief/Secretary: Prof. John Ikechukwu Ihedioha
Editorial Board
Editor-in-Chief/Chairman:                         Prof. C. O. Nwosu
Deputy Editor-in-Chief/Secretary:              Prof. J. I. Ihedioha
Editors:                                                          Prof. C. N.Uchendu (Nsukka)
Prof. I. U. Asuzu (Nsukka)
Prof. I. C. Nwaogu (Nsukka)
Prof. D. N. Onah (Nsukka)
Prof. J. O. A. Okoye (Nsukka)
Prof. K. F. Chah (Nsukka)
Prof. P. A. Onyeyili (Makurdi)
Prof. A. U. Kalu (Umudike)
Dr. P. A. Nnadi (Nsukka)
Prof. B. M. Anene (Nsukka)
Prof. D. Ogwu (Zaria)
Prof. R. C. Ezeokonkwo (Nsukka)
Prof. D. N. Ezeasor (Nsukka)
Dr. C. A. Eze (Nsukka)
Dr. I. S. Ochiogu (Nsukka)
Prof. K. F. Chah (Nsukka)
Prof. S. I. Oboegbulem (Nsukka)
Dr. J. O. Omamegbe (Umudike)
Prof. I. O. Igbokwe (Maiduguri)
Prof. H. C. C. Maduka (Awka)
Prof. J. C. Ogbonna (Nsukka)
Current address of the Journal
Journal of Veterinary and Applied Sciences,
Faculty of Veterinary Medicine,
University of Nigeria, Nsukka
Enugu State, Nigeria.
            Tel. No.:          08034535510/08056493282
            E-mail:            journal.vet@unn.edu.ng
Scope of the Journal
The Journal of Veterinary and Applied Sciences is published quarterly by the Faculty of Veterinary Medicine, University of Nigeria, Nsukka. The journal is dedicated to the publication of original research work that contributes to knowledge in all areas of veterinary sciences (animal health and production) and related subjects. Such contributions should be in the form of Full Research papers, Review articles, Short communications, Case Reports and Letters to the Editor. The Editorial Board invites research articles on large and small farm animals; companion animals such as dogs and cats; avian and aquatic species; biotechnology and biomedical sciences of veterinary interest.
Previous and current issue of the journal
JOURNAL OF VETERINARY AND APPLIED SCIENCES (JVAS)
Table of contents volume 1 (1) December 2011
======================================================================
Contents                                                                                                                                  Pages
Comparative efficacy of Samorecide® plus and Trypamidium-Samorin® in the
treatment of experimental Trypanosoma brucei brucei infection in albino rats
Ezeh, I. O., Iheagwam, C. N., Umezuruike, U. U. and Ezeokonkwo, R. C.                       1
Detection of antibodies to a non-vaccinal leptospira serovar in dogs in Sokoto
State, Nigeria. Pilau, N. N., Daneji, I. A., Mera, U. M., Adamu, Y. A.,
Magaji, A. A. and Okoli, C. E.                                                                                              9
Incidence of kid mortality in Ikwuano Local Government Area of Abia State,
Nigeria. Daniel-Igwe, G., Onyekweodiri, E. O., Nwoha, R. I. O. and Ibe, R.                     15
Urinalysis and gross pathology of Nigerian dogs infected with local isolates of the
Canine distemper virus. Ezeibe, M. C. O., Udegbunam, R. I., Shoyinka, S. V. O.
and Anyalebechi, O. C.                                                                                                          21
The influence of diarrhoea, pregnancy and management method on the gastro
intestinal parasite infection of goats in Maiduguri, Nigeria. Nwosu, C. O.,
Ishaku, B., Onyeador, U. B., Mbaya, A. W. and Daniel-Igwe, G.                                       28
Blood coagulation time as a possible tool for the clinical differentiation of canine
distemper and trypanosomosis. Ezeibe, M. C. O., Udegbunam, R. I., Etim, N. E.,
Eze, J. I., Okoroafor, U. N., Sanda, M. E., Udegbunam, S. O.,
Ugonabo, J. A. C. and Ngene, A. A.            
                                                                        35
Prolapse of the third eyelid in a neapolitan mastiff dog – a case report.
Udegbunam, S. O.,Udegbunam, R. I., Nnaji, T. O., Onuba, A. C., Offor, G. E.
and Nwaogu, I. C.                                                                                                                  39
Guide to authors.                                                                                                                    44
JOURNAL OF VETERINARY AND APPLIED SCIENCES (JVAS)
Table of contents Volume 2 November 2012
=================================================================
CONTENTS                                                                                                                          Page
Prevalence and antibiogram of coagulase positive aphylococci isolated from fresh
and fermented milk in Zaria and Kaduna, Nigeria. Gali A. Umaru, Junaidu Kabir,
Veronica J. Umoh, Mohammed Bello and Jacob K. P. Kwaga                                          1
Highly pathogenic avian influenza virus disease (bird flu) – recomended control measures.Maduike C. O. Ezeibe                                                                                                8
Benefit-cost analysis of avian influenza control programme in Enugu State, Nigeria.
Goodhead O. Uchendu, Emmanuel C. Okolocha and John A. Nwanta                            15
Influence of graded levels of dietary copper sulphate on performance and immune
response of broiler chicks to Newcastle disease vaccine.Pius A. Nnadi and
Edith C. Aniagu                                                                                                                     23
Comparism of different methods of isolation of pure cultures of Haemonchus contortus. Chukwunyere O. Nwosu, Idika K. Idika, Ifeyinwa M. Oparaojiego, Chijioke N.
Iheagwam and Ikenna O. Eze                                                                                               31
Sero-prevalence of infectious bursal disease in day old chicks and immune response
of chicks to vaccination against the disease. Maduike C. O. Ezeibe, Paul C. Animoke,
Ijeoma J. Mbuko, Mary E. Sanda, Chinedu Nnoje, Uju C. Okafor, Augustine A.
Ngene And Temitope Ogunniran                                                                                          36
A case of rabies in a five-month old male dog presented at the University of Nigeria
Veterinary Teaching Hospital, Nsukka, Nigeria. Goodhead C. Uchendu,
Gloria Daniel-Igwe and Chinedu A. Eze                                                                              41
Incidence of zoonotic helminth parasites in non-human primates at the zoological
garden of University of Nigeria, Nsukka, Southeast Nigeria.Maduike, C. O. E. Eze 45
JOURNAL OF VETERINARY AND APPLIED SCIENCES (JVAS)
Table of contents Volume 3   November 2013
=====================================================================
Contents                                                                                                                                  Page
Acute toxicity, phytochemical constituents and in-vitro anti-oxidant activity of crude
methanolic stem bark extract of Cassia sieberiana dc.
Thelma E. Ihedioha, Valentine U. Omoja and Isaac U. Asuzu                                           1
Haematological changes associated with surgical castration in red sokoto goats
Lawrence O. Aka, Mustapha O. Mamman, Peter I. Rekwot, Aliu Ahmed,
Bashir Sa'idu, Adamu A. Abubakar, Fatai M. Lawal, Abdulahi I. Jafar,
Umaru Adamu, Nicolas N. Pilau, Abdurahman H. Jubril, Abubakar M.
Mayaki, Bashiru Garba and Aliu Malmuda                                                                         10
Effects of surgical castration on some biochemical parameters, triiodothyronine
and rectal temperature of Red Sokoto goats
Lawrence O. Aka, Mustapha O. Mamman, Peter I. Rekwot, Aliu Ahmed,
Bashir Sa'idu, Sadiq Habibullah, Nasiru Suleiman, Abdul A. Abubakar,
Umaru Adamu, Nicolas N. Pilau, Aliu H. Jubril, Hassan M. Ibrahim and
Sani                                                                                                 16
Histology of the spleen of farmed juvenile african catfish (Clarias gariepinus b.)
Ekele Ikpegbu, Uchenna C. Nlebedum, Okechukwu Nnadozie and
Isaiah O. Agbakwuru                                                                                                            23
Effect of forage restriction on haematology and serum mineral profile of West
African dwarf sheep. Lawrence O. Aka, Earnest C. Nweze, Edmund C. Mbegbu,
Reginald I. Obidike, Johnpaul I. Ejembi, Adike O. Agbonu3 and
Chukwuka N. Uchendu                                                                                                         30
Radiographically confirmed orthopaedic cases at the university of Nigeria
Veterinary Teaching Hospital. Athanasius C. Eze, Celestine O. Ukwueze,
Kenneth C. Ogbanya and Jonas A. Onah                                                                            35
JOURNAL OF VETERINARY AND APPLIED SCIENCES (JVAS)
Table of contents volume 4 (1) JULY 2014
======================================================================
Contents                                                                                                                                  Pages
Haematological profile of Nigerian horses in Obollo-Afor, Enugu State.
John I. Ihedioha and Onyinyechukwu A. Agina                                                                 1
Comparative histopathological assessment of wound healing markers on surgically
induced skin wounds of rabbits (Oryctolagus cunnicullus) sutured with cotton
hair thread and silk suture materials. Kenneth C. Ogbanya, Chinedu A. Eze,
Shodeinde V. O. Shoyinka, Celestine O. Ukwueze Chukwunonso E. Ezeasor                   9
Effects of administration of monosodium l-glutamate on the serum activities of some
liver enzymes, serum total protein and liver histomorphology of West African
Dwarf goatsIzuchukwu S. Ochiogu, David Ogwu, Chukwuka N. Uchendu,
Chidozie N. Okoye, John I. Ihedioha and Onyinyechukwu A. Agina                                 17
An attempt at oral vaccination of Nigerian local dogs with different anti-rabies
vaccines. Abdul D. El-Yuguda, Saka S. Baba, Zakari H. Aduwa and Bala M.
Abubakar                                                                                                                                25
Effect of aqueous extracts of Sacoglottis gabonensis stem bark and leaves of
Azadirachta indica on the sporulation of oocysts of Eimeria tenella and
Eimeria maxima Chukwuma P. Eze, Chukwunyere O. Nwosu and Idika K. Idika                                                                                                                                                                                    31
A case of dystocia in a multipara West African Dwarf doe. Rock O. Ukaha,
Njoku U. Njoku and Oluchi M. Uzuegbu.                                                                            38
A case of nutritional degenerative cardiomyopathy in the dog. Gloria Daniel-Igwe  43
Snake bite and its successful treatment in dog: a case report. Oluchi M. Uzuegbu,
Kelechi T. Jeremaiah, Njoku U. Njoku, Ebere O. Ogbu and Rock O. Ukaha.                  48
JOURNAL OF VETERINARY AND APPLIED SCIENCES (JVAS)
Table of contents volume 4 (2) DECEMBER 2014 in press
======================================================================
Contents                                                                                                                                  Pages                                                                                                             
Comparison of fasting blood glucose levels of male and female mice post xylazine
hydrochloride administration. Rita I. Udegbunam and Sunday O. Udegbunam                 51
Current websites of the journal
The Journal of veterinary and Applied Sciences does not currently have a website.
Current publishers of the Journal
The current publishers of the journal of veterinary and Applied Sciences is the Faculty of Veterinary Medicine, University of Nigeria, Nsukka, Enugu State, Nigeria.
Strengths and weaknesses of the Journal
The strength of the Journal lies in our core values and opportunities as evidenced in:
A crop of few but well trained and highly experienced Editorial Board members
Culture of commitment to hard work by both editorial and support staff
iii.        Effective management and utilization of meager resources
Cooperation and teamwork among our editorial and support staff.
Regular supply of high quality manuscripts from local, national and international researchers.
Capacity to handle large scale editorial work and complicated manuscripts.
The weaknesses of the Journal include:
Inadequate funding to support/improve working facilities.
Inadequate/insufficient working facilities like computers, printers, scanners, internet facilities.
iii.        Inadequacy of working/office space
Inadequate/epileptic supply of electricity
Lack of Office/Editorial Assistants and other support staff
Opportunities and threats of the Journal
The opportunities of the journal include:
The Journal can be a world-class journal and source of information for veterinary and other related scientific information.
The journal can give rise to expansion to accommodate other more specialized journals in all areas of scientific research, practice and education in veterinary and related sciences.
iii.        The Journal can develop to a major publisher of books, journals and other educational and scientific publications of international standard to ameliorate the severe scarcity of such materials in Nigeria and the West African sub-region.
Presently, we are the only journal in the south-east and south-south geopolitical zones of this country that publish veterinary and related scientific information; presently we have no competition in our chosen area of interest.
The location of the journal in a University with a Faculty of Veterinary Medicine and other related Faculties will ensure the regular supply of competent and experienced editors/reviewers, support staff and enough manuscripts for the regular publication of the journal volumes.
The threats of the journal include:
Growth in number of manuscripts received for publication without commensurate expansion of support staff and facilities for effective and efficient operation.
Inadequacy/perennial lack/shortage of operational funds
iii.        Inadequate infrastructure for efficient and effective operations.
Inadequate power supply for effective delivery on our vision and mission
Strategies to enhance the capacity of the journal
To get a regular source of funds adequate enough for staff remuneration and for the operations of the journal.
To get a web site for the journal – Placing our journal on a web site will increase its national and international visibility and recognition which will in turn help to generate more manuscripts for publication and funds for our operations and future expansion.
iii.        It is hoped that the journal will expand into  an internationally recognized and patronized journal in veterinary and related areas of research and practice.
iii.        To serve as a journal for the production of well researched and internationally competitive scientific publications.
To serve as a reference journal for veterinary and related scientific information.
To expand into a recognized publisher of books, several journals and other educational and scientific materials of international standard.
Acquisition of a more spacious office space adequate for our operations.
vii.       Employment of enough support staff for the operations of the journal.
Employment of a full-time Editor for day to day administration and management of the operations of the journal.
Acquisition of standard and state of the arts equipment for the efficient and effective review, editorial and publishing of manuscripts, books and other materials.
To acquire its own  publishing outfit for its operations and to be patronized by other publishers and individuals for their publication needs.
xii.       To expand into other sister journals.
Any other information
JOURNAL OF VETERINARY AND APPLIED SCIENCES
Instructions to Authors
Preparation of Manuscript: Manuscripts should be Written in concise English and presented in double space, A4 sized paper, typed on one side only, with ample margin of 2.5 cm on both sides. All pages, including Figures and Tables, should be numbered consecutively at the lower right hand corner, starting with the Title page and arranged in the following order: Title page, Abstract, Introduction, Materials and methods, Results, Discussion, Acknowledgements (optional), References, Tables and Figures. The Results and Discussion sections may be merged if necessary. Illustrations, Tables, Figures and legends to Figures should be typed on separate pages. All scientific measurements should be expressed in the System International (S. I.) units.
Title Page: The title page should contain the following information: Title of the paper in bold face (font size 14, sentence case). Names of the authors should appear in normal face as first giving name, then initials and the surname (font size 12). This should be followed by complete postal address(es) of the authors in lower case italics. The author for correspondence should be identified by an asterisk mark with full name and title together with a functional telephone number and e-mail address.
Abstract: An abstract, not exceeding 250 words (50 words for a Short Communication), should start on a new page after the title page. It should contain, in brief, all aspects of the study, highlighting the background to the study, the methods used, significant findings and conclusions. It should be free of references and abbreviations. Case reports and Letters to the Editor need not include the Abstract section.
Key Words: Four to six key words should be provided on the same page under the Abstract, each separated by a comma.
Running Title: A short running title of not more than 60 characters should be provided at the bottom of the Abstract page.
Introduction: The introduction should supply essential background information on the study, citing relevant references. This should end with a clear statement on the aim and objective(s) of the study.
Materials and Methods: This section should describe the equipment and materials used for the study, and the experimental procedures in sufficient detail to allow other investigators repeat the work if necessary. However, where standard methods or those already described in an indexed journal are employed, a mere reference to such technique will suffice. The statistical method(s) chosen and the level of significance should be clearly stated. In experiments involving live animal species, authors must provide detailed description of any anaesthetic and surgical procedures used and enough evidence that adequate steps were taken to ensure that the animals did not suffer unnecessarily in any stage during the experiment. Authors are advised to consult full details on ethics prepared by INSA, the Council of International Organisation of Medical Sciences (WHO/UNESCO), NIH and PHS.
Results: The results should be written in reported speech (past tense) and present the essential findings of the research. As much as possible, the results section should be brief and free of citation or discussion. Only such data as are essential for understanding the discussion and the main conclusions emerging from the study should be provided. The data should be arranged in a unified and coherent sequence so that the report develops clearly and logically. There should be statistical or illustrative validation of the assertions. The same data should not be presented in both tabular and graphic forms.
Discussion: The Discussion should not repeat the results but deal with interpretation of the results, citing relevant references to support or disagree with the research findings. Emphasis should therefore be on the most important points of the study with a minimum of speculation and proposal (if any) for relevant future studies.
Acknowledgements: This section is optional. However, if cited should be brief with information only on technical, secretarial assistance and/or funding.
References: References should be numbered in the order they are first mentioned in the text. Identification of references in the text should be by numbers placed in square brackets. For example, Several studies have shown that barley can be used in layer diets [1,2] or Abiade-Paul et al. [3] reported that … It is preferred to cite a review instead of listing several publications with similar results. If a citation has more than two authors, the first should be given followed by 'et al', for example, Wong et al. [3] reported that …
All publications cited in the text should be presented in a list of references following the text of the manuscript and should be given Arabic numerals. The arrangement should be in the order they were first mentioned in the text rather than alphabetically. The list of references should contain the surnames and initials of all authors. In all cases, the complete name of the journal should be used. Authors should, as much as possible, include the digital optical identification (DOI) number, ISSN and ISBN numbers of articles, journals and books respectively following the first and last page numbers of each reference listed. Authors should avoid citing 'Personal Communications' except where such citations provide essential information not available from a public source. In such cases, the name of the individual and the date of communication should be indicated in parenthesis in the text.
Full details of referencing style may be obtained by e-mail from the Editor in Chief. The recommended format for commonly cited types of references is shown below. For other types of references, such as electronic media, newspaper items etc. Please refer to ICMJE (http://www.icmje.org/).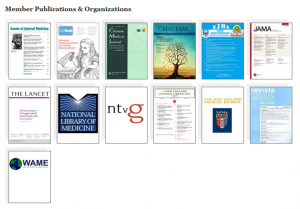 Journal Articles        
Abiade-Paul, C. U., Kene, I. C. and Chah, K. F. (2006). Occurrence and antibiogram of Salmonellae in effluent from Nsukka Municipal Abattoir. Nig. Vet. J., 27: 48 – 53. ISSN: 0331-3026.
Mbaya, A. W., Nwosu, C. O., Onyeyili, P. A. (2007). Toxicity and anti-trypanosomal effects of ethanolic extract of Butyrospermum paradoxum (Sapotaceae) stem bark in rats infected with Trypanosoma brucei and Trypanosomacongolense. J. Ethnopharm., 111: 526 – 530. DOI: 10.1016/j.jep.2006.12.020.
Book
Gordon, R. F. and Jordan, F. T. W. (1982). Poultry diseases. 2ndEdn.,BailliereTindall, London. ISBN: 0-7020-0907-5.
Chapters in Books
Baggot, J. D. (1084). Disposition and fate of drugs in the body. In: John's Veterinary Pharmacology and Therapeutics. Booth, W. H. and McDonald, L. E. (Eds.,). Kalyani Publishers,New Delhi, pp. 36. ISBN: 0-7216-1473-6.
Published Proceedings of Conferences/Symposia
Shoyinka, S. V. O., Chah, K. F., Eze, D. C. and Onuoha, E. O. (2008). Clinical and pathological features of of Pitriasis rosea of pigs in Nigeria. In: proceedings of the 45th Annual congress of the Nigerian Veterinary Medical Association, Hambolu, J. O., Ajogi, I. and Tekdek, L. B. (eds.), Owerri, Nigeria. 122 – 124.
Thesis/Dissertation
Gatongi, P. M. (1995). The epidemiology and control of gastrointestinal nematodes of small ruminants in a semi-arid area of Kenya with emphasis on hypobiosis of Haemonchuscontortus. Ph.D. Thesis, McGill University, Canada.
Accepted but unpublished manuscripts
Ojo, S. A. and Dennis, S. M. (2008). Age determination in prenatal Zebu cattle. J. Anim. Sci., 158: in press.
Figures and Tables: These should be of high quality and printed on separate sheets of paper following the list of references. Their headings should be concise and clearly present the subject matter. Tables should not contain internal horizontal and vertical lines except for the top row that shows column captions. Both Tables and Figures should be numbered consecutively in Arabic numerals and bear a brief title in sentence case normal face letters below. Photographs should be on glossy paper and should bear the names of the authors and the title of the paper at the back, written lightly in pencil. Figure and Table titles should be typed on a separate page with numerals corresponding to the illustrations. Graphs, diagrams, drawings and photographs are considered figures and must be large enough to allow reduction up to one quarter of the original size. Embossment of photographic figures and the printing of colour photographs and other illustrations attract additional charges.
Length of manuscript: Full research papers should not exceed 15 printed pages including tables and illustrations. Short communications should not be longer than 5 printed pages with a maximum of 3 Tables and Figures combined. A maximum of 2 and 3 printed pages shall be allowed for Letters to the Editor and Case Reports respectively. Review articles should not exceed 30 printed pages. They should not contain Materials and methods and Results sections but should have an Abstract, Introduction, relevant sub-headings in the body of the text and conclusion.
Submission of manuscript: Manuscripts are accepted for publication on the condition that they have not been published or under consideration for publication in another journal. Type-written manuscripts in triplicate, electronic copies in CD or Flash Drive (MS Word or Word Perfect) should be submitted to:
The Editor-in-Chief,
Journal of Veterinary and Applied Sciences,
Faculty of Veterinary Medicine,
University of Nigeria, Nsukka, Nigeria.
E-Mail: journal.vet@unn.edu.ng or journal.vetmed@yahoo.com
Manuscripts shall be subjected to peer review process by at least two members of the Editorial board or other reviewers to determine their suitability for publication in the journal. The Editor-in-Chief retains the right to modify the style and length of a manuscript to make it conform to the journal format. However, the Editor-in-Chief reserves the right to return manuscripts that fail to conform to the requirements of the journal.
Cost chargeable to authors: The Journal of Veterinary and Applied Sciences charges authors for handling/processing and publication of their manuscripts. A handling/processing charge of two thousand five hundred naira (N2,500 or US$ 125) is made on submission of a manuscript for review. Manuscripts may be submitted as hard copies by post or electronically by e-mail. A page charge of ten thousand naira (N10,000 or US$ 500) will be charged for publication of each accepted manuscript. Accepted manuscripts longer than 15 printed pages and/or those with more than 5 photographs or colour reproductions may attract additional charges. In all cases, manuscripts will not be published until all associated charges are paid in full by the author(s) to the account of the journal, No. 0019406113 at any of the Branches of Diamond Bank Plc. nationwide or by Cheque/Certified Bank Draft in favour of Journal of Veterinary and Applied Sciences.
Reprints: Five reprints of all published manuscripts will be sent, free of charge, to the corresponding author. Additional reprint copies and copies of the journal may be obtained at a cost from the editorial office.
Prof. C. O. Nwosu DVM, M.Sc., Ph.D., MBA, FCVSN
Editor-in-Chief,
Tel. No.: 08034535510/08056493282
E-mail: journal.vet@unn.edu.ng/journal.vetmed@yahoo.com