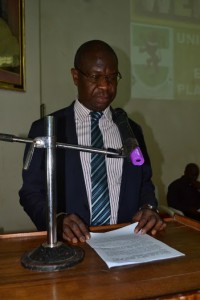 Profile:
Professor Ozumba was appointed the Vice-Chancellor of the University of Nigeria, Nsukka in June 2014. Prior to that, he was a Professor/Consultant in the Department of Obstetrics and Gynaecology in the Faculty of Medical Sciences and Dentistry; a position he held for over twenty (20) years.
Professor Ozumba studied medicine at the University of Lagos where he obtained his Bachelor of Medicine and Bachelor of Surgery. Subsequently he gained his postgraduate qualifications from the Royal College of Obstetrician and Gynaecology in United Kingdom and College of Surgeons in United States of America.
Professor Ozumba has over thirty years of professional and administrative experience with considerable knowledge of project planning and management gained both in academia and the wider industrial sector. He is an established researcher of international repute with numerous publications in Gynaecology Oncology General Gynaecology, Abortion/Reproductive.
Treat Infected and Maternal and Fetal Medicine; author of a number of books and editorial member of several journals. He also held several national and international appointments, chaired a number of national committees and contributed immensely in the improvement of university education in Nigeria.
He has received a number of national and international award and honours including the Swedish Anders Fredrik Regnell Award for the break-through study 'hypertension, diabetes and obesity'; Distinguished Service Award from the President International Federation of Obstetricians and Gynecologists; Fellow Royal Society of Medicine from England and Takemi Fellow in International Health from Harvard School of Public Health in recognition of his work and contribution in the field of medicine.
Professor Ozumba has been responsible for several initiatives including: the introduction of graduate Doctor of Medicine (MD) degree in clinical departments of the College of Medicine, the first of its kind, east of the Niger and facilitating the initiation and accreditation of the first Faculty of Dentistry in Eastern and Northern Nigeria, by the National Universities Commission. Through his charity work, Ozumba has established an NGO responsible for conduction free medical outreach programme for the treatment of rural communities in Nigeria
Professor Ozumba hails from Abba in Njikoka Local Government Area of Anambra State. He is married to Chinelo Ozumba (Nee Udokwu) and blessed with five children.