PROCESS FLOW ON HOW TO GENERATE INVOICE FOR LAPTOP PAYMENT
1.Type in the address bar on your browser (unnportal.unn.edu.ng) as shown below.

2.  Press the enter key on your keyboard, the following screen  appears.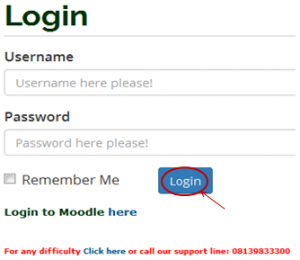 3. Type in your registration number as the username, type in your password, then, press the enter key or click on the login button to see the following screen.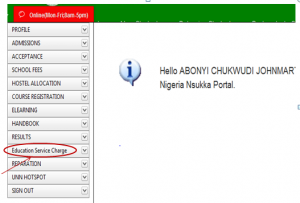 4. From the menu items on the left, click on "Education Service Charge" as shown above, to see the next screen as shown below. Observe the  dropdown menu under "Education Service Charge"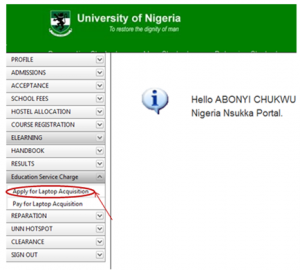 5. Click on "Apply for Laptop Acquisition" the following  screen will appear.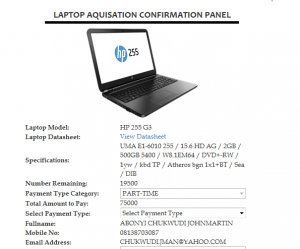 6. Scroll down to see the lower section of the screen, which will appear as shown below.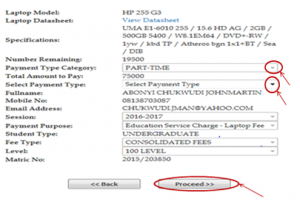 Click on "Payment Type Category" drop down key, this will prompts you to select for full payment "FULL-TIME" or part payment " PART-TIME"
Click on "Select payment type", this will prompt you to select  the installmental  type, example, 2nd, 3rd or 4th   installment.      

Click on the "Proceed" button, the invoice will appear as shown below.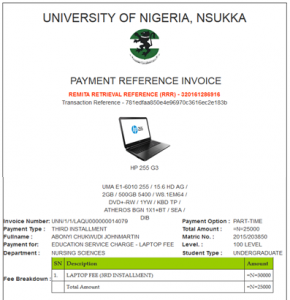 10. Repeat the same process for  2nd ,3rd and 4th  installmental payment.
Kindly click on DOWNLOAD to get the offline version