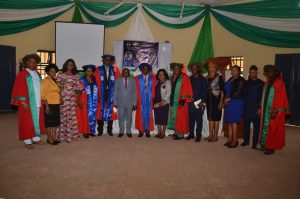 Summary of Faculty of Education Lecture Series
 On Tuesday 25th, a maiden lecture series was organized by our dear Faculty of Education of this noble university. During his opening speech, the Vice Chancellor, Prof. Charles A. Igwe ably represented by his Deputy (Administration/Academics), Prof. Okpoko commended the novel, all important and timely event and stated that other faculties should borrow leaf from this commendable event. The Dean of the faculty, Prof. Joshua. E. Umeifekwem on his welcome address also said the maiden edition of the lecture series with its topic: "Ageing and Dying in Contemporary Nigeria" was deemed necessary at a time like this, when people do not want to think about the obvious which is ageing and dying. Again, he reiterated the need of revamping the spirit of academic scholasticism in our Faculty which has eluded us for so long. During the lecture, Prof. O. C. Eneh in his introduction stated that Death and dying are inevitable parts of ageing, whether it is personal or of our loved ones. Noting an increasing interest in gerontology (physical, mental and societal implications of ageing) and thanatology (the scientific study and practice of death), he exposed the audience to the meaning of ageing and dying, the need for and tips on achieving graceful and successful ageing; among which he discussed stress and health management, planning ahead of time, having enough sleep and rest, regular check-ups.
While concluding, the Lecturer stressed on the observed reluctance on the part of Nigerians with issues regarding ageing and death which makes them shy away from discussing and preparing for it. He warns that everyone should take the issue seriously and prepare for it, so as not to be taken unaware; more so, since it comes with its attendant deterioration of the bone, tissues and other vital organs. He further advice all and sundry, especially the ageing, to engage in proper feeding, daily exercises, proper health management, regular check-ups with their doctors and above all, maintain stress-free environment to increase longevity.