SPEECH BY THE VICE CHANCELLOR, PROFESSOR BENJAMIN CHUKWUMA OZUMBA, DURING THE LAUNCHING OF THE E-MARKET PLACE PROJECT ON TUESDAY,FEBRUARY 23RD, 2016 AT THE PRINCESS ALEXANDRA AUDITORIUM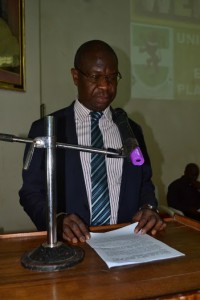 Protocol
It is with great pleasure that I welcome you to the official launching of e-Market place project here at the University of Nigeria, Nsukka. This is the first of its kind in the history of our great University and it is in line with our vision of widening the magnitude of our interactions with the business community within and outside the University.
The project is thus geared towards harmonizing and harnessing the financial benefits of all operated businesses, market spaces and facilities within the University, through an online electronic platform.
Included in this project are biometric identity cards which will be issued to all traders on site to improve security and effective monitoring of people who are engaged in various types of businesses on our site.
The project is aimed at:
Creating and Managing an e-Market platform that will host the details of all University commercial facilities/spaces and their operators
Issuing biometric identity cards for business operators on the three campuses of the University.
Determining appropriate levels of charges and rents to optimize University Income
Registering all businesses with regularized rent and charges
Issuing appropriate tenancy agreements to support above
Liaising with and providing relevant information to the University security Department
Liaising with the bursary Department to ensure that all accruable revenues are properly paid into designated University account
I would like to emphasize that all commercial facilities including rented spaces belong to the University and therefore it is essential that all occupants of these spaces are fully registered in the platform.
With the zeal to achieve these objectives, a committee of 11 members was formed from different Units and Departments of the University to oversee the successful implementation of this project.
Distinguished ladies and gentlemen, it is now my pleasure to declare open this great innovation of the University of Nigeria, Nsukka. This innovative project, e-Market Place is guaranteed to serve our students, our staff, the nearby community and the general public.
The launching of this project will set another pace for future ideas and innovations that will make the University of Nigeria, Nsukka, one of the best Universities in the world.
Thank You and God bless.
Professor Benjamin Chukwuma Ozumba
Vice-Chancellor