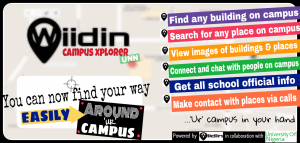 Click Find Your Way Around the Campus With Wiidin Campus Xplorer
NEW FEATURES ON WIIDIN CAMPUS XPLORER
You can now Chat via Wiidin Messenger with fellow students on Campus.

Create, hold Forums and Topics based on your school Departments.

Sell any item either your used items or a new item via 'StudentTrade'.

You can now share any form of document with one or more persons, even as a group, documents such as Pictures, MS Docs, Musics, Videos any formats u want (e.g. pdf, doc, docx, jpg, png, excel, mp3, mp4, ogg, etc ).
JUST CLICK ON 'EnterCampus' TO SIGN IN, THEN YOU CLICK ON 'CampusActivity' and Other Menu Items relating to students and campus.