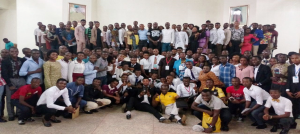 YOUNG INNOVATORS FORUM UNIVERSITY OF NIGERIA, NSUKKA
About Us
Young Innovators Forum is a South-East Regional Youth Forum established to increase youths and students involvement in the promotion of creativity and innovative ideas. It is a platform where students around the South-East Region meet to sharpen their innovative skills and tackle global and social challenges for sustainable development in Nigeria. It is a platform of opportunity for young innovators with business action to face challenges that will push their abilities to the next level. The forum is organized Special Education Unit, Innovation Centre and Youth Friendly Resources Centre of University of Nigeria, Nsukka. The forum is aimed at addressing young people and seeks to provide a sustainable platform for young innovators. The plan is to deliver essential feedback to Nigeria youths on challenges, accomplishments and actions related to implementation of self-reliant and innovative skills.
Our Goal
Our goal is to bring Nigerian youths together annually to think critically, creatively and innovatively in order to develop multiple innovative concepts that will help transform the nation.
Our Vision
Our vision is to empower the youths to be more productive, creative, industrious, focused and more determined to succeed while in school and or after school.
Aims and Objectives
To train, empower and build future young innovators and entrepreneurs through an annually organized workshop.
To give moral and academic training and support to the youths through empowerment programmes.
To ensure good leadership, and focus on innovation through science and technology.
To empower young people to build a vision for their future.
To promote a culture of Innovation, Science and Entrepreneurship in the university.
To raise more innovators and creative avenue for students to showcase their skills and talent.
Our Activities
Design thinking
Innovation and Creativity
Talent Development Programme
Train the trainer
Collaborative Partners within the University
Special Education Unit, University of Nigeria, Nsukka
Innovation Centre, University of Nigeria, Nsukka
CEDR, University of Nigeria, Nsukka
Youth Friendly Resources Centre, University of Nigeria, Nsukka
Proposed Corporate Social Responsibility outside the University
As part of the university's commitment to Corporate Social Responsibility, below organizations and institutions are currently willing to partner with the Forum with series of developmental projects, there are:
National Board for Technology Incubation Center, Abuja
Federal Ministry of Science and Technology, Abuja
Office of SSA to President on Youths and Students Affairs
Concepts College, UK
Prince Computer School, Nsukka
National Coalitions of Nigerian Youths in South-East, Nigeria
CONTACT DETAILS
C/o Special Education Unit
University of Nigeria, Nsukka
Email: younginnovators.unn@gmail.com
URL: http://www.younginnovators.unn.edu.ng
Associate Prof. Onu, V.C. (Programme Coordinator-08037786310)
Dr. Chigbo Mgbemene (Assistant Programme Coordinator – 080342637810
Dr. Olisa Okeke (Director, ICT/Innovation Centre – 08060029850)
Dr. Chinedum Aranotu (Director, Youth Friendly Resource Centre, UNN – 08034008700)
Prince Nweke (Volunteer Coordinator – 08064451455)
Chidinma Dede (Publicity Secretary – 08139152986)
DOWNLOAD YOUNG INNOVATORS 2016 WORKSHOP REPORT
INVITATION TO 2017 YOUNG INNOVATORS INTERNATIONAL CONFERENCE