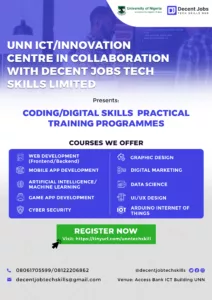 Dear UNN Students,
Dear UNN students, we are happy to announce that the ICT Unit, in collaboration with Decent Jobs Tech Skills LTD have partnered to bring you an amazing Digital Skills Training Program to boost your skills, competency and capacity to secure good local, and international and even remote jobs while you are still students or even after graduation. Below are the details of the training:
Date: 16th October, 2023 (Second Batch)
Venue: Access Bank ICT Building UNN
Registration Link: www.tinyurl.com/unntechskill
In this training, you will have the chance to learn and develop practical skills in various areas, including but not limited to:
Web Development,
Mobile App Development,
Game App Development,
Artificial Intelligence and Machine Learning,
Graphic Design,
Data Science,
Cyber Security,
UI/UX design,
Digital Marketing
Our team of experienced instructors will guide you through hands-on practical and intensive, physical and virtual sessions and provide personalized support to ensure you make the most of this opportunity.
Some of the benefits of the training include:
Capacity building
Award of a certificate
Exposure to global opportunities
Acquisition of digital skills
Increased employability
Mentorship
The Training is continuous and in different batches, do well to register to either join the current batch or to be informed each time a new batch is about to commence
Don't miss this chance to upgrade your skill set and boost your employability in the competitive job market. The training is open to all UNN students, regardless of your current level of expertise. Whether you're a beginner or have some prior experience, there's something valuable for everyone.
Each course comes at a subsidized rate of #50,000, you can also pay in instalments by paying your first instalment of #20,000 to Decent Jobs Tech Skills LTD – 3000696240 Kuda Bank.
Registration is currently ongoing and spaces are limited for this batch, so we encourage you to register NOW to secure your spot. Click on the provided registration link www.tinyurl.com/unntechskill to reserve your spot now.
The second batch of the training commences on the 16th of October, 2023
If you have any questions or need further information, please feel free to contact 08122206862 or 08061705599
We look forward to seeing you at the training and witnessing your growth in the digital domain.
Best regards.