The much-awaited 2016 Agbogidi Conference in honour of His Royal Majesty , Igwe Alfred Achebe,  Obi of Onitsha has come. You are specially invited. The date remains July 18, 2016.
Venue: Princess Alexandria Auditorium
Time: 10.00am
Keynote Speaker: Prof. Elochukwu Amaucheazi
Lead Paper Presenters:
1. Prof. Emeka Nwabueze
2. Dr. P-J Ezeh
The event will be graced by dignitaries from Onitsha, Ahmadu Bello University, Zaria and Kogi State University, Ayingba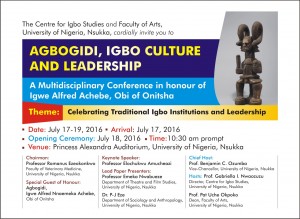 Hosts:
Prof. G.I. Nwaozuzu, Director, Centre for Igbo Studies, U.N.N
Prof. Pat Uche Okpoko, Dean, Faculty of Arts, U.N.N
See attached IV for further information.
Thanks.
Ndubuisi Ahamefula
Secretary, LOC.